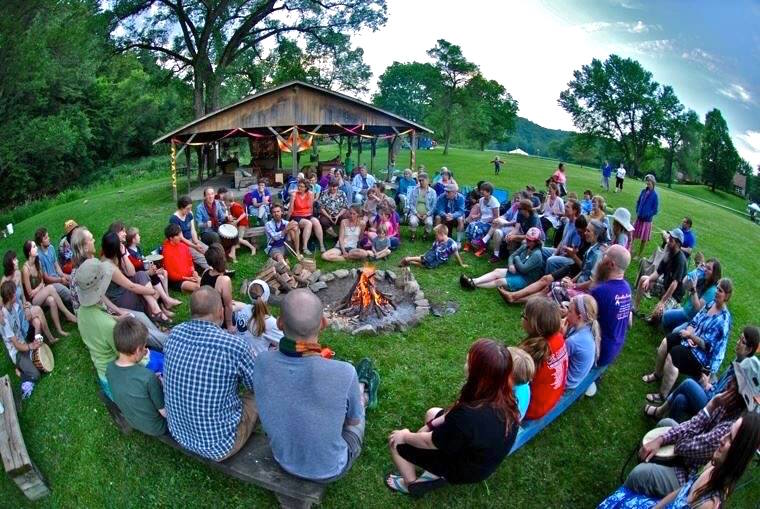 14 Jun

Village Fire Singing

"For thousands of years, humans have sung together; sung for joy, for creating and preserving culture, to mark important stories, to enliven social movements, to grieve, to praise, to share. Something inexplicable happens when people open and blend their voices into a single lake of sound. To me, it's one of the most basic means for making, seeing, and feeling the truth of our connection with others." – Annie Zijlstra

I've just returned home from the Village Fire gathering in Decorah, in a small corner of North-East Iowa where 300 people gathered for 5 days and nights of singing together in community. For years I had heard of this place called Decorah, where the singing is woven into the rhythm of everyday life, into the fabric of community, into the deep roots of home. A place where song is breath and song is food. A place where they have songs for all things – songs for morning and songs for night, songs for dark and songs for light, songs for birth and songs for death, and songs for everything in between. A place where the songs are embedded into the very culture and life of a place, where they can be called forth in times of celebration and harvest, joy and grief. Songs to uplift, to enrich, and to add meaning to a community and place.

The Village Fire gathering was envisioned and held by Liz Rog, a community song-leader who has dedicated over 35 years to building song community in this place she calls home. I remember the first time I met Liz, almost three years ago at a gathering of song-leaders in Victoria BC. I remember the longing and hunger I felt in my heart, as I listened to her stories of this place where song has become the very foundation of a people and culture. I remember hearing her dream, of growing a community where people know the same songs, and can draw on them when needed, in times of change, celebration, and so on.

At the time I met Liz, I had been living abroad for almost five years, travelling through the song gatherings on the west coast and beyond, learning and harvesting stories and experiences of what it means to be a village again in these times of change. I had discovered community singing a few years earlier, at the Singing Alive gatherings in Oregon, and had found a deep sense of belonging and connection in these circles where all voices are welcome. It was through community singing that I discovered my own voice, and found a way of being together that felt like home.

At the time, I had no intention of returning to the place of my own origin and roots, the big city of Toronto, Canada. I had come to equate urban living with a disconnection and separation that wasn't healthy, and so I turned my back on that life and sunk deeper into rural living. Little did I know at the time, that my journey of gathering and harvesting these experiences of community singing where part of a larger mission to bring it back home to my place of origin, to share what I had found with my family and community, and to re-create the village in the big city, one voice at a time.

It has been almost two years since I moved back to Toronto, and started holding song circles that have grown into our weekly community choirs. Today, I feel immense gratitude for the singing community being grown here, and the possibilities of connection and harmony that are only possible in a city as diverse and multi-cultural as this one. I have come to understand that the village can happen anywhere, in any place. And in many ways, cities are where it is needed most.

To read more about Liz Rog and the singing community in Decorah, click here for a great article by community song-leader Annie Zijlstra.

To learn more about Village Fire Singing, click here.