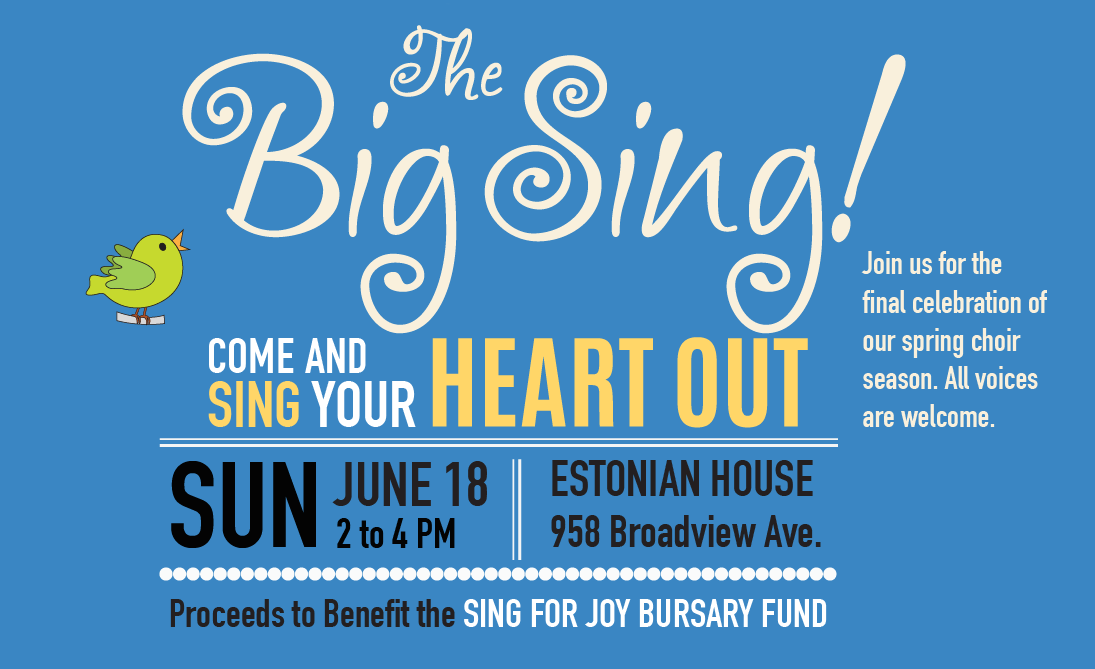 28 May

The Big Sing

The Big Sing!
Sunday, June 18, 2-4 pm
Toronto Estonian House, 958 Broadview Ave, Toronto.
A Benefit Event for the Sing for Joy Bursary Fund
Suggested Donation: $15. Children Free.

Come out to sing in celebration, as we join voices in support of the Sing for Joy Bursary Fund. We'll share a lively afternoon of easy-to-learn songs that nourish the soul and uplift the spirit. The Big Sing is our final event of the spring choir season, and a celebration of the songs that we've learned together each week. We can't wait to share these songs with our broader community, and to invite you to join in on the fun. All voices are welcome, and no singing experience is required.

The Big Sing is brought to you by Sing for Joy, an all-inclusive singing community that gathers each week for the pure joy of singing together. It is a member of the Ubuntu Choir Network, a global community of singing groups who believe that the joy of singing is a universal birthright, and that together, regardless of musical background, we can help improve the world by joining voices in song. To learn more about Sing for Joy, visit: www.singforjoy.ca.

The Sing for Joy Bursary Fund supports anyone in need who wishes to take part in our community choirs, workshops, programs, and events. It also supports our volunteer work throughout Ontario, bringing the joy of group-singing to communities and organizations who would like to provide people with the Sing for Joy experience.

For more information on our upcoming Big Sing event, visit our event page by clicking here.

See below for a video from our last Big Sing event!