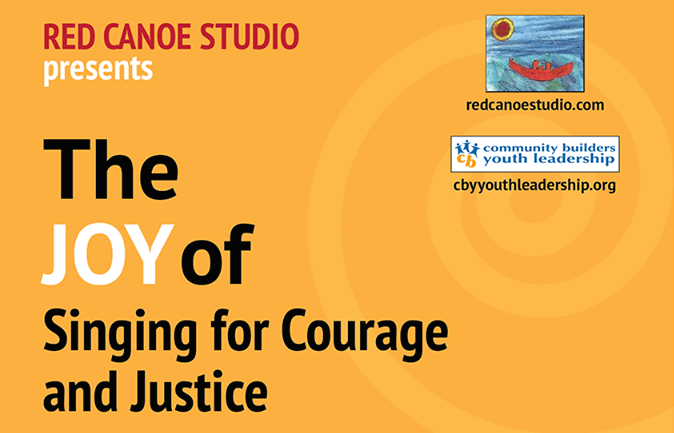 23 Apr

The Joy of Singing for Courage & Justice

The Joy of Singing for Courage and Justice
A Benefit Event for Community Builders Youth Leadership
Saturday, May 13, 7-10 pm
Red Canoe Studio, Toronto

Join us for a lively evening of easy-to-learn songs that nourish the soul and uplift the spirit. For 22 years, Community Builders has been working in Ontario school communities to ignite sparks of courage in young leaders, parents and teachers. Through workshops with experiential activities, "Ally" work, drama and song, our participants learn useful leadership skills to impact their school communities in positive ways.

Words from Jerry Brodey, Co-Founder of Community Builders Youth Leadership:

"There is something powerful about singing with a group of committed people and the strength of a simple call-and-response song. Dr. Ysaye Barnwell, singer, activist and educator, said that when we sing together we agree to co-operate. Singing for me has always been an antidote for isolation and hopelessness. Singing nourishes life.

I'm grateful that you, Mila, said yes to taking a leadership role in our Community Builders Youth Leadership's benefit – The Joy Of Singing for Courage & Justice. I liken what you do in your song circles to what we do in Community Builders Youth Leadership: finding our voice, dropping into to a deeper listening, stepping up for others, noticing that we're all central to the whole and feeling joy when it calls to us.

In Community Builders we are ally-building with youth, their parents and teachers, to create meaningful cross-generational dialogue, a form of peacemaking. Call and response."

All donations for this event will go to support Community Builders Cross-Generational Dialogue project in Scarborough and Jane Finch. Suggested Donation: $15. Donate more or less depending upon your means. For more information, visit: www.redcanoestudio.com.